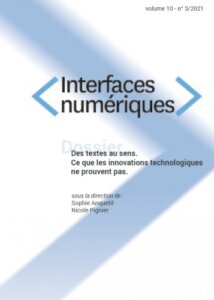 Sommaire
Sophie ANQUETIL et Nicole PIGNIER
Des textes au sens. Ce que les innovations technologiques ne prouvent pas.
Enjeu de la médiation des cultures et de l'édition à l'ère des mutations numériques. Entretien. avec Sylviane SAMBOR
Sophie ANQUETIL
Emmanuël SOUCHIER et Joanna POMIAN
Qui cause ? Qui dose ? Qui ose ? À l'infini poème apporter une fin
Who causes? Who doses? Who dares?
To the infinite poem bring an end
Bruno BACHIMONT
La complexité herméneutique à l'épreuve du calcul
Hermeneutical complexity in the face of computation
Rossana DE ANGELIS
Qu'est-ce que veut dire interpréter dans le cadre d'une herméneutique (du) numérique ?
What does it mean to interpret in the context of a digital hermeneutics?
Olga GALATANU
Le traitement du potentiel argumentatif des mots en analyse du discours
Dealing with the argumentative potential of words in discourse analysis
Sophie ANQUETIL
Pourquoi les actes de langage politiques échappent-ils au traitement linguistique des données ? Le cas de l'alerte : itinéraire de ses procédures instituantes
Why can't linguistic data processing be applied to political speech acts?
The case of the alert: an itinerary of its instituting procedures
Keywords