La revue "Communications – The European Journal of communication research" publie son Volume 46 Issue 4.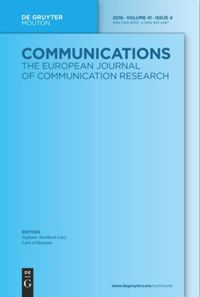 Sommaire
Articles
Book review

Présentation de la revue
Editors: Stefanie Averbeck-Lietz-Lietz & Leen d'Haenens
Associate Editors: Philippe J. Maarek, Tristan Mattelart, Hillel Nossek, Christian Pentzold, Cristina Ponte
Book Review Editors: Olivier Driessens, Stijn Joye, Heidi Vandebosch
Editorial Management: Viviane Harkort

Objective
Communications: The European Journal of Communication Research is an established forum for scholarship and academic debate in the field of communication science and research from a European perspective. Communication science is concerned with the investigation of the structure and function of communication processes and their impact on society, social groups and individuals. Communications highlights the concerns of this discipline through the publication of articles, research reports, review essays and book reviews on theoretical and methodological developments considered from a European perspective. The journal encompasses the entire field of communication science as its domain of interest. The contributions published in the journal cover a wide range of subfields in communication science.
Topics
Communication reseach
Structure and function of communication
Impact on society, social groups and individuals
Interpersonal communication
Intercultural communication
Mass communication
Communication theory
Philosophy of communication
Media history
Media development and communication technology