Event place Cracow University of Technology and hybrid, Cracow , Poland
The Cracow University of Technology is organising an international conference on the communication and didactic issues raised by Artificial Intelligence. It will be held in hybrid mode on 15 and 16 may 2023.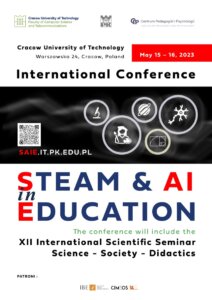 Presentation
"We are pleased to invite you to participate in the upcoming two-day conference "STEAM & AI in Education" combined with the XII International Seminar Science – Society – Didactics.
The conference will be held in a hybrid format on the following dates:
online on the Teams platform on May 15, 2023.

on the campus of the Cracow University of Technology on May 16, 2023.
We invite teachers, researchers, practitioners, as well as students who are passionate about exploring the potential of STEAM (Science, Technology, Engineering, Arts, and Mathematics) and AI (Artificial Intelligence) in education to participate in our conference. This conference will offer an excellent opportunity to network, exchange knowledge and ideas, as well as learn about the latest technologies and innovative teaching practices. The conference will cover a wide range of topics, including:
innovative solutions for integrating STEAM and AI into education

ethical considerations related to AI development in educational contexts

integration of STEAM and AI in curricula

the role of STEAM and AI in designing education for the future

the impact of STEAM and AI on the job market.
We have invited a group of outstanding speakers who are experts in the field of STEAM & AI education. They will share their knowledge and insights on the latest research, trends, and developments in this rapidly evolving field.
We believe that your presence at the conference would be valuable and would contribute to the success of the event. Therefore, we would like to extend our warmest invitation to attend the "STEAM & AI in Education" conference.
To register for the conference, please visit our website
 :
We look forward to seeing you at the conference!
on behalf of the organizing committee
Katarzyna Potyrała"
Partners
Keywords