Présentation
À l'occasion des 20 ans de la revue, le comité de rédaction de Questions de communication pose 10 questions, chacune consacrée à une thématique d'actualité. En invitant deux chercheur·es à répondre à chaque interrogation, ce sont des approches complémentaires qui sont proposées et ouvrent des perspectives.
Transversale et pluridisciplinaire, cette livraison spéciale aborde la communication sous plusieurs prismes : discriminations et violences, participatif, propagandes internationales, pandémie et stratégies, environnement, espace/temps et travail, algorithmes, audiovisuel numérique, art et sciences sociales, matériel/immatériel.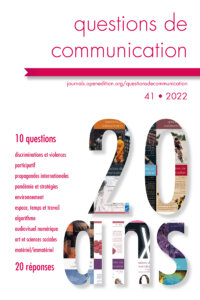 Sommaire
Discriminations et violences : quelles formes et présences médiatiques des luttes contemporaines ?
Discrimination and violence: what forms and media presence of contemporary conflicts
Loïc Ballarini et Isabelle Garcin-Marrou
Des revendications en quête de reconnaissance [Texte intégral]
Légitimité des acteur·rices et visibilité des luttes dans les espaces médiatiques
Claims in search of recognition. Legitimacy of actors and visibility of fights in media spaces
« Un miroir tendu par les États-Unis » [Texte intégral]
La couverture journalistique de Black Lives Matter en France
"Un miroir tendu par les États-Unis": Newspaper Coverage of Black Lives Matter in France
Au-delà du « vidéo-activisme » : la politisation de la vidéo dans les luttes sociales contemporaines [Texte intégral]
Beyond "video activism": the politicization of video in contemporary social struggles
Participatif : un moment critique ?
Participative: a critical moment ?
Anne Piponnier et Céline Ségur
Un « moment critique » pour la participation ? [Texte intégral]
A "critical time" for participation?
Le participatif en actes : quel avenir pour l'injonction à la participation ? [Texte intégral]
The achievement of participation: what future for participatory imperative?
Les dispositifs participatifs dans un monde de communication [Texte intégral]
Participatory mechanisms in a world of communication
Propagandes internationales : de nouvelles formes ?
International propaganda: new forms?
Tristan Mattelart, Bernard Idelson et Nicolas Pélissier
Les mutations des stratégies transnationales d'influence médiatique des États [Texte intégral]
When States develop new transnational strategies of media influence
La « diplomatie publique digitale » des États-Unis, nouvel art de gouvernement des publics étrangers en ligne [Texte intégral]
« Digital public diplomacy » of the United States, new art of governing foreign audience online
Maxime Audinet et Kevin Limonier
Le dispositif d'influence informationnelle de la Russie en Afrique subsaharienne francophone : un écosystème flexible et composite [Texte intégral]
Russia's informational influence in Francophone Sub-Saharan Africa: a flexible and heterogenous ecosystem
Pandémie et stratégies de communication : rupture ou continuité ?
Pandemic and communication strategies: rupture or continuity?
La démocratie sanitaire peut-elle guérir de l'épidémie de Covid-19 ? [Texte intégral]
Can health democracy recover from the Covid-19 epidemic?
Olivier Aïm et Anneliese Depoux
Naissance de l'infodémiologie. Le cas de l'OMS : vers une nouvelle organisation mondiale de l'information sanitaire ? [Texte intégral]
The birth of infodemiology. The case of WHO: towards a new global health information organization?
Un modèle archaïque de prévention et de lutte contre les épidémies réinventé par le Covid-19 [Texte intégral]
An outdated prevention pattern to fight against outbreaks reinvented by Covid-19 pandemic.
L'environnement : une lecture holistique du monde ?
The environment: a holistic reading of the world?
François Allard-Huver et Justine Simon
Communication et humanités face aux défis environnementaux [Texte intégral]
Communication and humanities in the face of environmental challenges
Signes, sens et environnement [Texte intégral]
Notes sur les apports des sémiotiques à l'analyse de la présence de l'environnement en communication
Signs, meanings and environment: notes on the contributions of semiotics to the analysis of the presence of the environment in communication
La communication environnementale, au cœur des humanités environnementales [Texte intégral]
Environmental communication, at the heart of environmental humanities
Espace/temps et travail : quelles reconfigurations ?
Space, time and work: what reconfigurations?
Stéphane Dufour et Sylvie Thiéblemont-Dollet
Éclatement et recomposition de l'unité de temps et d'espace du travail [Texte intégral]
Travail déspatialisé, travail libéré ? [Texte intégral]
La recomposition des inégalités face aux mutations des formes d'organisation spatiale du travail
De-spatialized Labour? Inequalities and changing patterns of spatial labour organisation
Sylvie Célérier et Sylvie Monchatre
Nouvelles temporalités du travail : de l'éclatement à l'hégémonie ? [Texte intégral]
New temporalities of work: from splintering to hegemony?
L'algorithme, espace et objet de débats ?
The algorithm, space and object of debate?
Frédéric Gimello-Mesplomb, Brigitte Simonnot et Bénédicte Toullec
Vivre avec les algorithmes [Texte intégral]
Dépasser les craintes, rendre intelligibles les enjeux
Living with algorithms: overcoming fears, making the issues intelligible
Une décision calculée peut-elle tenir lieu de jugement ? Considérations sur la faculté de juger et son instrumentation [Texte intégral]
Could a calculated decision substitute with a judgment? Considerations about the faculty of judgment and its instrumentation
Comprendre les algorithmes, leurs risques et leurs promesses [Texte intégral]
Que recouvre le champ de recherche des algorithmes ? Quelles en sont les limites et les perspectives de développement ?
Understanding algorithms, their risks and promises. What does the field of algorithmic research cover? What are the limits and perspectives of development?
L'audiovisuel numérique : éclatement ou réagencement ?
Digital audiovisual: splintering or rearranging?
Guillaume Soulez, Céline Ségur et Marie-Pierre Fourquet-Courbet
Penser l'audiovisuel numérique : vers une nouvelle étape [Texte intégral]
Thinking about digital audiovisual: towards new challenges
Médias récursifs [Texte intégral]
Recursive Media
Christine Thoër, Stéfany Boisvert et Katharina Niemeyer
La télévision à l'ère des plateformes [Texte intégral]
Quels enjeux et opportunités pour l'industrie de l'audiovisuel et les publics ?
Television in the multi-platform era: challenges and opportunities faced by the audiovisual industry and audiences
Art et sciences sociales : quelles productions de savoirs croisés ?
Art and social sciences: which productions of crossed knowledge?
Patrice de La Broise et Pierre Morelli
Repenser la médiation au prisme de l'art et des sciences sociales [Texte intégral]
Rethinking mediation through the lens of art and social sciences
Les nouvelles configurations des relations entre milieux scientifiques et milieux artistiques dans les dispositifs et projets « art-science » : promesses et impensés [Texte intégral]
New configurations of the relations between scientific and artistic fields in the devices and projects "art and science"
Zone Critique [Texte intégral]
Art, Science et Anthropocène : par-delà la « Nature »
Critical Zone. Art, Science and the Anthropocene: Beyond "Nature"
Terrains matériels, terrains immatériels : vers une transformation des méthodes ?
Material lands, immaterial lands: towards a transformation of methods?
Nathalie Pinède et Arnaud Mercier
Numérique, données et méthodes [Texte intégral]
Tentations, renouvellements et permanences.
Digital, data and methods: temptations, renewals and continuities
Inflation des données, renégociations des cadres, opportunités pour la recherche en SHS ?[Texte intégral]
Data inflation, framework renegotiations, opportunities for Social Sciences and Humanities research?
Le Grand Remplacement méthodologique n'aura pas lieu [Texte intégral]
Nous sommes des artisan·es
The great methodological replacement will not take place: We are craftspeople
Livres reçus
Received Books