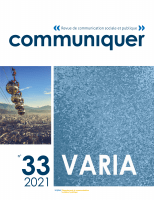 Communiquer, Revue de communication sociale et publique contribue à une meilleure compréhension des phénomènes de communication humains. Cette thématique est abordée dans son ensemble, qu'elle soit organisationnelle, interculturelle et internationale, interpersonnelle et de groupe, marketing et publicitaire, politique ou qu'elle touche à la santé, l'environnement, les technologies, la communication scientifique, les relations publiques, sans que ces indications ne soient exhaustives.
Sommaire
Articles
Évi Basile-Commaille et Marie-Pierre Fourquet-Courbet
Prévention et communication contre les violences faites aux femmes. Réception et influences de la stratégie créative du détournement du genre
Prevention and Communication to Counter Violence Against Women. The Gender Disruption Strategy and its Influences
Laurent Collet, Michel Durampart, Laurent Heiser et Ludovic Picard 
Enjeux expérimentiels de l'utilistion de l'IA en anatomopathologie
Experiential Issues of the Use of AI in Anatomopathology
Le repositionnement des éditoriaux des journaux municipaux face à la métropolisation
The Repositioning of Editorials in Municipal Newspapers Facing Metropolitanization
Le service public audiovisuel et sa régulation dans le REFRAM : une étude exploratoire des relations entre médias de service public et régulateurs
Audiovisual Public Service and REFRAM's Regulation: An Explorative Study of the Relations Between Public Service Media and Regulators
Vers une ingénierie communicationnelle pour penser la co-construction de l'action publique ?
Towards a Communication Engineering to Think About the Co-Construction of Public Action?
ANNONCES GÉNÉRALES
Communiquer reçoit toutes propositions Varia spontanées qui répondent à notre ligne éditoriale, nos consignes de mise en forme et de soumission. Nous vous invitons aussi à faire des suggestions de notes de lecture et à consulter la listes d'ouvrages disponibles sur notre site web.