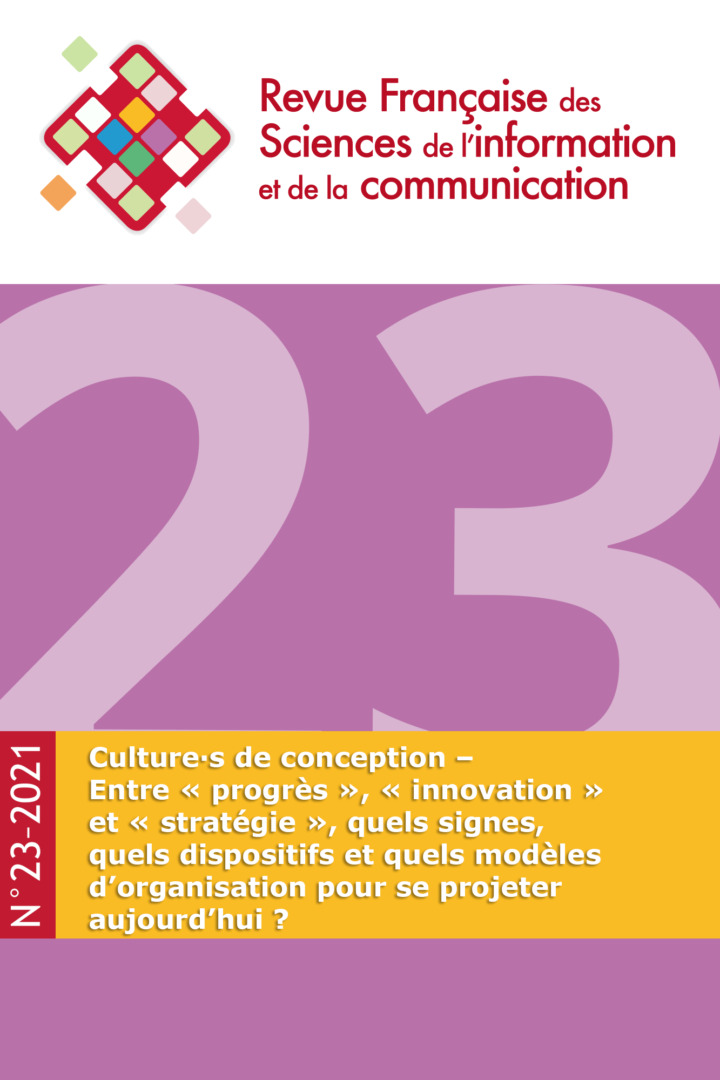 The 23rd issue of the RFSIC in available in open access. Coordinated by Fabien Bonnet, the dossier is entitled "Conception cultures. Between "progress", "innovation" and "strategy", what signs, what devices and what organisational models to project today?".
Summary
Patrice de La Broise
Éditorial
Gino Gramaccia
Passage de témoin
Dossier
Sous la direction de Fabien Bonnet
Fabien Bonnet
Introduction
Culture·s de conception. Entre « progrès », « innovation » et « stratégie », quels signes, quels dispositifs et quels modèles d'organisation pour se projeter aujourd'hui ?
Conception cultures. Between "progress", "innovation" and "strategy", what signs, what devices and what organisational models to project today? [Traduction | en]
Stéphane Vial et Thomas Watkin
Designers et ergonomes à l'épreuve de la reconnaissance professionnelle : un essai de comparaison entre deux cultures de la conception dans l'industrie française des télécommunications
Manuel Zacklad et Marie-Julie Catoir-Brisson
Culture de la conception et du design dans la recherche-intervention en SHS
Dorian Reunkrilerk et Estelle Berger
Médiation au design avec des ingénieurs : le tact comme posture
Niklas Henke
Design Methods and Innovation Projects as Creativity Consultancy
Anne Beyaert-Geslin
Des valeurs « prêtes à réaliser » : l'exemple de l'application Vinted
Smail Khainnar
Les nouvelles « cultures de conception urbaine » : Esquisse de quelques traits distinctifs
Valérie Larroche et Antoine Fauchié
Quel régime de conception pour les communs éditoriaux ?
Spicilège
Carine Aillerie et Valentine Mazurier
Photographie réflexive et pratiques informationnelles : une méthodologie au service de la complexité
The possible contributions of Reflective Photography to better understand the complexity of informational practices
Martine Bocquet
Peirce en Amazonie : controverse à propos de la sémiotique d'Eduardo Kohn et de la communication avec les non-humains
Regards croisés
Sous la direction de Fabien Bonnet
Laura Bousquet
Étude de l'industrie du livre : perspectives franco-allemandes. Les SIC et la Buchwissenschaft
Revue des revues
Sous la direction de Bruno Chaudet
Ugo Roux
La revue de Recherches Francophones en Sciences de l'Information et de la Communication
Parutions
Bertrand Mocquet
Appel à recensions
Allison Guiraud
Flipo Fabrice, Rondot Camille & Tufano Antonella (Dirs). (2020). Smart Cities : Vers de nouvelles organisations ?
Presses des mines. Paris
Étienne Candel
Cervulle Maxime & Saemmer Alexandra (2020). Regard et communication
L'Harmattan. Paris
Constance Micalef Margain
Bourgne Patrick, Devret Christian, Fourt Xavier & Gay-Charpin Marie Hélène (2020). Matérialiser l'utopie
Presses Universitaires Blaise-Pascal. Clermont-Ferrand
Chancelin Wabo
Le Deuff Olivier (2019). Riposte digitale : Pour des maîtres d'armes des réseaux
Publi.net. Paris
David Michon
Sandri Éva. (2020). Les imaginaires numériques au musée ? Débats sur les injonctions à l'innovation
MkF Éditions
Aurélia Bernard
Cazals François et Cazals Chantal (2020). Intelligence artificielle : L'intelligence amplifiée par la technologie
Éditions De Boeck Supérieur. Louvain-le-Neuve
Matteo Stagnoli
Le Marec Joëlle et Maczek Ewa (Éds.). (2020). Musées et recherche : Le souci du public
Ocim. Dijon
Clémence Godin
Bazin Maëlle, Lambert Frédéric & Sapio Giuseppina (Éds.). (2020). Stigmatiser : Discours médiatiques et normes sociales
Le Bord de l'eau. Lormont
Marc Jahjah
Bonnet Valérie. (2019). La voix du terrain : Genre, dispositif et fonction sociale du commentaire sportif
Presses universitaires de la Méditerranée. Montpellier
Gino Gramaccia
Martin-Juchat, Fabienne (2020). L'aventure du corps. La communication corporelle, une voie vers l'émancipation
Grenoble, P.U.G.
Keywords