On the occasion of the 72nd ICA Annual Conference and following an initiative by the SFSIC (French Society for Information and Communication Sciences), the Centre for Research on Mediations (CREM) organized on 25 May 2022, in Metz, France, a pre-conference on the theme of "Post-Truth and Affective Publics' Challenges to Social Ties. Disinformation, Populism, Data-Driven Propaganda".
The event was endorsed by the ICA Journalism Studies Division and the ICA Political Communication Division. Annika Sehl, Chair of the Journalism Studies Division, welcomed the participants with a pre-recorded message. The European Journalism Training Association (EJTA) and the Association GIS Journalism (France) also provided scientific endorsement. Thorsten Quandt, Director of the Department of Communication (IfK) at the University of Münster, Germany, and spokesperson for the Centre for Digitized Public Spheres Research (ZEDOE), was the guest of honour and delivered the closing plenary speech.
In addition to these presentations, 25 papers were presented in person by participants from the United States and Canada, Europe (Austria, Belgium, Denmark, France, Germany, Romania, Switzerland ) and Asia (Malaysia) (see the full program here), divided into four main (plenary) sessions and two research escalator workshops; the latter were intended for doctoral students who had previously submitted full papers, with the aim of getting feedback on their work from pre-assigned referees. Simultaneous translation into French allowed non-English speakers to join the event.
Under a delightful spring sun by the Moselle river, an audience of about 60 participants and attendees appreciated the quality of the presentations and the speakers' good mood. A guided tour of Metz rounded off a pleasant day full of exchanges. A publication project is underway.
The pre-conference was made possible by means of contributions from the University of Lorraine (CLCS scientific pole), the Erasmus+ Fact-checking project (European Commission), as well as the French-German ANR-DFG M-PHASIS project (Migration and Patterns of Hate Speech in Social Media).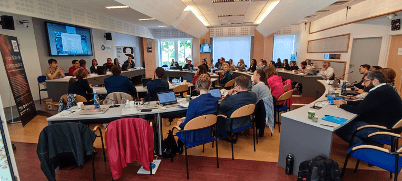 Keywords